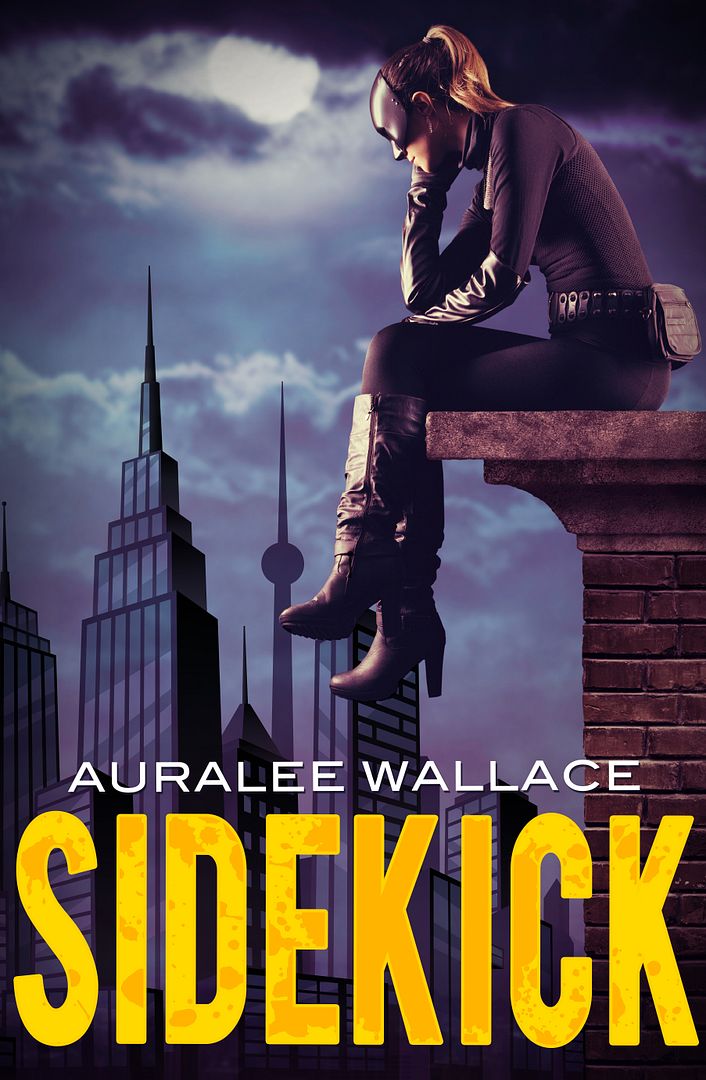 Sidekick
Auralee Wallace
Genre: Fantasy/Superhero
Publisher: Escape Publishing
Date of Publication: 1 June 2014
Number of pages: Approx 179
Cover Artist: Danielle Mait
Book Description:
Heroes meets Kick-Ass in this brilliant and hilarious debut about a girl who just wants to save the world...
Bremy St James, daughter of billionaire Atticus St James, has been cut off from the family fortune and is struggling to survive in a world that no longer holds its breath every time she buys a new outfit. To make matters worse, her twin sister is keeping secrets, loan sharks are circling, and the man of her dreams — a newspaper reporter — is on assignment to bring down everyone with the last name St James.
Things are certainly looking bleak for the down-and-out socialite until a good deed throws her into the path of the city's top crime-fighter, Dark Ryder. Suddenly, Bremy has a new goal: apprentice to a superhero, and start her own crime-fighting career.
Ryder has no need for a sidekick, but it turns out the city needs Bremy's help. Atticus St James is planning the crime of the century, and Bremy may be the only one able to get close enough to her father to stop him.
Now all she needs to do is figure out this superhero thing in less than a month, keep her identity secret from the man who could very well be The One, and save the city from total annihilation.
Well, no one ever said being a superhero would be easy...
Sidekick
Fun Polyvore Board- Inspired by Sidekick by Auralee Wallace
Giveaway
Bremy runs away from home after finding out some scary truths. She is not sure what to do with her life, in fact she doesn't have a plan of what to do with her new knowledge. Until she meets a superhero and decides that's whom she wants to be. Can she become one?
The author has created a good plot in this fast-paced book, that kept me guessing and wanting more. It's a pretty funny story that had me laughing out loud a few times. Not very believable, but I still could relate to the story. Everything is relevant, but I wish I would have more background on the characters and on the world built.
Bremy is a lovable character that I relate, connect and understand. Bremy is so real for me and I have shared some good laughs with her and her gang.
"… having my own Scooby Gang! Things were definitely looking up. Now, technically, I did still owe money to two psychopaths, and the person I loved more than anyone else in the world wasn't speaking to me…"
This is not a particularly fresh idea, but still cool to read about. It's not a superhero with power kind of book, more like a superhero with gadgets, sort of like Batman.
I really like this book, it was ver addictive and not easy to put down. It has a few weakeness such as a bit anti-climatic ending and not a very descriptive world built.
I only want to say "Please give me more!" I need to know the rest. I'm certain this could not be the ending of it. I totally love this genre, comics mixed with romantic comedyand this has room to become a great series.
For a debut novel, this was amazing! Bravo, Ms. Wallace!
Review by:
About the Author:
Auralee Wallace has played many roles in her life, including college professor, balloon seller, and collections agent. She is now living her dream of writing humorous women's fiction. When this semi-natural blonde mother of three children (and psychiatric nurse to two rescue cats) isn't writing or playing soccer, she can be found watching soap operas with lurid fascination and warring with a family of peregrine falcons for the rights to her backyard.
https://twitter.com/AuraleeWallace